Wrack
"dazzling proof that intricately arranged, angular modern jazz can be accessible and enjoyable." (Wire)
". . . effortlessly occupies the space between jazz and classical music, generating movements of somber reflection one minute, turbulent intensity the next. From Morton Feldman-esque minimalism to Charles Ives-like bluster, Wrack has few equals. . . Whether Wrack qualifies as free jazz, chamber jazz or some other hybrid is irrelevant: this is music made by artists unafraid of genre constraints." (All About Jazz)
"Bruckmann is an excellent composer, striking the right balance between form and freedom, setting up abundant opportunities for his mates to express themselves." (Signal to Noise)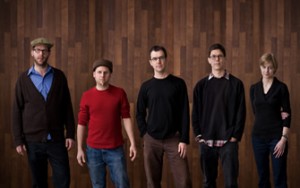 Formed in Chicago in 2002, Wrack is the vehicle for Bruckmann's compositions teetering at the intersection of the jazz and classical avant-gardes. While the melodic and contrapuntal content often invokes European modernism, the open structures, improvisational procedures, and slapstick streak are equally indebted to the African-American Creative Music tradition and Bruckmann's parallel history in post-punk noise-rock.
Bruckmann moved to the San Francisco Bay Area in 2003, but has maintained ties to Chicago's vibrant improvised music community ever since. Wrack's core members (Jason Stein, bass clarinet; Jen Clare Paulson, viola; Anton Hatwich, bass; and Tim Daisy, percussion) are highly active bandleaders and sidemen, with other past and present affiliations include the Vandermark 5, Fast Citizens, Rempis Percussion Quartet, the Aram Shelton Quartet, Engines, Guillermo Gregorio's MADI Ensemble, Made to Break, and Vox Arcana.
Download high resolution press photos here (scroll down).
Excerpts from the 7.27.13 premiere of …Awaits Silent Tristero's Empire, a 'free jazz phantasmagoria' inspired by Thomas Pynchon's novels V., The Crying of Lot 49, and Gravity's Rainbow. To see the entire performance in higher definition, go here.
This is a 2012 Chamber Music America New Jazz Works Commission, made possible by the Doris Duke Charitable Foundation, and presented by the Outsound New Music Summit in San Francisco. Many thanks to Charles Smith for the footage, and to so many others (fawned over elsewhere) for an amazing project. Click here for interviews regarding the project's creation. Reviews of the ALBUM have appeared at Dusted, All About Jazz, and the Chicago Reader.

This footage is from a February 2012 performance at Audio for the Arts, Madison WI (massive thanks to everyone at Surrounded by Reality, and to Clint Mosling for the videography and Steve Gotcher for the audio recording), and a September 2010 performance at Trinity Chamber Concerts, Berkeley CA.
Wrack's …Awaits Silent Tristero's Empire registered on a few year-end Best Of 2014 lists, including the 7th Annual En Intruso Critics' Poll, Delire actuel, and #1 Jazz and Improv album in Magnet Magazine.
Some kind and thorough reviews from late in the year: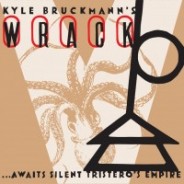 …a musical phantasmagoria inspired by the novels of Thomas Pynchon
Kyle Bruckmann – oboe, English horn
Jason Stein – bass clarinet
Darren Johnston – trumpet
Jeb Bishop – trombone
Tim Daisy – percussion
Jen Clare Paulson – viola
Anton Hatwich – bass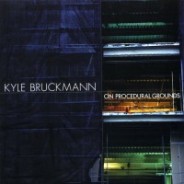 Kyle Bruckmann – oboe, electronics
with:
SFSOUND (Matt Ingalls – clarinet, bass clarinet; John Ingle – alto saxophone; Gino Robair – prepared piano: Benjamin Kreith – violin: Tara Flandreau – viola; Monica Scott – cello; Kjell Nordeson – percussion)
WRACK (Tim Daisy – percussion; Anton Hatwich – bass; Jen Clare Paulson – viola; Jason Stein – bass clarinet)
ROVA SAXOPHONE QUARTET (Bruce Ackley – soprano; Steve Adams – alto; Larry Ochs – tenor; Jon Raskin – baritone)
and Tim Perkis & Gino Robair – live electronics
Compositions for improvising chamber ensembles with electronics. Cell Structure and Tarpit feature sfSound Group; the title piece features Wrack and Rova Saxophone Quartet with Tim Perkis and Gino Robair. Orgone Accelerator is a stereo realization of a work for 8-channel sound diffusion.
"Any attempt to pin down Bay area musician Kyle Bruckmann is a study in futility. Here's someone who jumps from collective improvisation to the skronk-rock of the group Lozenge to jagged compositional forms for improvisation with his group Wrack to electro-acoustic explorations with his duo EKG along with Ernst Karel, to name just a few of his forums. Through all of these settings, working with the notoriously finicky oboe and analog synthesizers, he has managed to carve out a distinctive approach, balancing a formalist sense of structure with a spontaneous sense of group interaction. Bruckmann's new release, On Procedural Ground, is a great place to hear how all of this comes together.
"Cell Structure" kicks things off with the ragged shudder of analog synth dropping back to reveal layers of breathy sputters and hisses of oboe and Matt Ingalls' clarinet. From there, the piece evolves as the two play tag-team across sets of de-tuned intervals torn through with clangorous shards of electronic rumble and grit. The tensions build between raw electronic timbres and quavering reed tones, skirling cries that sound almost like sine waves, and agitated activity that moves with jump-cut precision. The half-hour long title piece which follows is almost orchestral in contrast. Here, Bruckmann deploys his group Wrack (viola, bass, clarinet, bass, and percussion), Rova Saxophone Quartet, and live electronics courtesy of Gino Robair and Tim Perkis across a score that moves from sections of pointillistic abstraction to coursing, full-tilt stomp. What makes this work so well is how attuned Bruckmann is to the ensemble; he's clearly structured the piece around the specific voices and playing strategies of the members as well as an ear toward how to combine the core ensembles in constantly changing sub-groupings. This is all cast against the active field of live electronics, again, playing the textures of acoustic instruments and pure electronic tones off of each other with canny effectiveness, though this time, featuring some blistering solos, particularly from the Rova crew.
"Orgone Accelerator" takes "Cell Structure" a step further; this time bringing electronics to the foreground and coloring the throbbing, shuddering fields with wafts of oboe and English horn. Composed for "8-channel sound diffusion," the stereo recording still manages to capture a sense of being engulfed in the waves of thrum and glitch shot through with spatters of key clicks, reed pops, and cracked double-reed overtones. The recording wraps up with "Tarpit," another ensemble piece, this time featuring sfSound, a group of like-minded composer/improvisers Bruckmann began working with when he first moved to the Bay-area in 2003. Here, the oboist is joined by Ingalls on clarinet, John Ingle, on alto sax, Gino Robair on prepared piano, Benjamin Kreith on violin, Tara Flandreau on viola, Monica Scott on cello, and Kjell Nordesen on percussion and electronics. For this piece the musicians are grouped in various pairings, floating deconstructed melodic threads over unstable, layered planes of drones. The group revels in the malleable intersections of activity and stasis to create a piece of slowly unfolding richness as events constantly sparkle through the hushed dark, harmonic cushion, building to a lush full-on density shot through with buzzing detail. While no single release provides a definitive look at Bruckmann and his music, this is a damn fine place to start.
–Michael Rosenstein, Point of Departure
This video is an excerpt from the premiere performance of the title piece, 10/1/10 at the Community Music Center in San Francisco. A playlist with the complete performance can also be viewed here. (No great shakes, mind you: a stationary camera from the balcony, but hey, it's History.)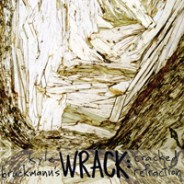 Kyle Bruckmann – oboe, English horn
Tim Daisy – percussion
Anton Hatwich – bass
Jen Clare Paulson – viola
Jason Stein – bass clarinet
"The unusual front line of Kyle Bruckmann's Wrack—viola, oboe, and bass clarinet—gives the quintet a narrow timbral range, but it uses wriggling, high-intensity counterpoint to create an exhilaratingly bright, multilayered sound. As Bruckmann says in the liner notes of the group's forthcoming third album, Cracked Refraction (due from Porter Records on February 21), "I take perverse glee in using the wrong tools for the job." The onetime Chicagoan started Wrack as a jazz-oriented project, but over time he's come to focus more and more on jagged themes, unwieldy time signatures, and tricky pinpoint interplay (a la Anthony Braxton), all played with the postpunk energy of his old band Lozenge—on "Exacerbator," for example, Jen Clare Paulson's acidic viola slashes against the grain of a charging unison pattern from Bruckmann's oboe and Jason Stein's bass clarinet. Drummer Tim Daisy and bassist Anton Hatwich make for a whirlwind rhythm section, and when they buckle down and play hard they sometimes seem to splinter the front line with their momentum as they signal the rapid-fire shifts in Bruckmann's knotty, episodic compositions. The intensity can be pretty relentless, which makes the occasional quiet passage—like Paulson's lyrical, almost hushed solo on "Notwithstanding," accompanied by light percussion and pointillistic bass—hit just as hard emotionally as the wind players' most furious barrages." (Peter Margasak, Chicago Reader)

listen

Exacerbator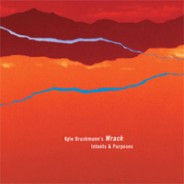 Kyle Bruckmann – oboe, English horn
Tim Daisy – percussion
Anton Hatwich – bass
Jen Clare Paulson – viola
Jason Stein – bass clarinet
"Bruckmann effortlessly occupies the space between jazz and classical music, generating movements of somber reflection one minute, turbulent intensity the next. From Morton Feldman-esque minimalism to Charles Ives-like bluster, Wrack has few equals. . . Historically, attempts to combine classical music with jazz often tend toward the programmatic and cerebral. Bruckmann's writing sounds wholly organic and natural. With Intents & Purposes, he delivers an album rich with tricky contrapuntal writing, bolstered by unusual arrangements and intricate interplay. Whether Wrack qualifies as free jazz, chamber jazz or some other hybrid is irrelevant: this is music made by artists unafraid of genre constraints." (Troy Collins, All About Jazz)
listen

The System Cannot Withstand Close Scrutiny (excerpt)

Slippery Disciplines (excerpt)

Intents & Purposes (excerpt)

Further Ado (excerpt)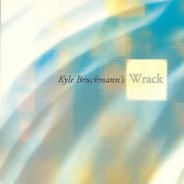 Jeb Bishop – trombone
Kyle Bruckmann – oboe, English horn
Tim Daisy – percussion
Kurt Johnson – bass
Jen Clare Paulson – viola
"Bruckmann's compositions are a carefully constructed balancing act between a written hybrid of jazz/classical motifs and improvised interplay. These seven compositions (with one non-original) emphasize a dark, reflective sound that thrives on dynamic variance… On Ornette Coleman's "Lonely Woman", the ensemble cuts to the core of the piece in perhaps the most breathtaking version of this song ever recorded (after Ornette, of course)." (Jay Collins, One Final Note)
listen

Gearshifts & Parentheticals (excerpt)

Mitigating Factors (excerpt)

Elegy for a Boiled Frog (excerpt)

Extenuating Circumstances (excerpt)