solo performance
Gasps & Fissures is an exploration of meticulous scrutiny and deceptive illusion, hyper-extending a limited instrumental palette. Subtle, often borderline microscopic sounds of acoustic instrumental origin are grotesquely magnified and manipulated to sculpt music of claustrophobic intimacy and impossible physicality.
The CD on 482Music (realized through the Artist Residency Program at Experimental Sound Studio, Chicago, and funded in part by the National Endowment for the Arts) was conceived as a response to the paradoxes and absurdities of recording improvised music.
Gasps & Fissures as a live performance employs re-worked recorded materials and disorienting amplification to provide an ever-evolving framework for structured solo improvisation.
This piece can be (and has been) presented as a standalone performance, or as part of a solo recital including other contemporary literature for oboe and English horn. A sample list of available repertoire:
Luciano Berio – Sequenza VII (1969) oboe
Harrison Birtwistle – An Interrupted Endless Melody (1991) oboe & piano
Christopher Burns – The Mutiny of Rivers (2010) English horn & live electronics (commissioned for EKG)
Elliot Carter – A Six Letter Letter (1996) English horn; Inner Song (1992) oboe
Morton Feldman – Oboe and Orchestra (1976) oboe & tape (EKG's radical arrangement, w/ Ernst Karel's analog synthesizer realization of the orchestral score)
Brian Ferneyhough – Coloratura (1966) oboe & piano
Arthur Jarvinen – A Conspiracy of Crows (2000) oboe & tape
Mario Lavista – Marsias (1982) oboe & 8 crystal glasses
Mary Jane Leach – Xantippe's Rebuke (1993) oboe & tape
Olivier Messaien – Vocalise étude (1935) oboe & piano
Michael Pisaro – mind is moving (VII) (1996) oboe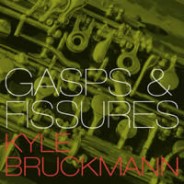 Kyle Bruckmann – oboe, English horn, suona, and mijwiz
(with Kurt Johnson, double bass)
"Gasps & Fissures's microscopic constructions are meticulously built from some of the music's smallest bits. . . Bruckmann's classical and jazz influences are stripped down and dissected, resulting in music that's as much electronic as it is either of the aforementioned styles. Gasps & Fissures inhabits the areas in between these territories, not straddling them so much as existing deep in the cracks, where many wouldn't even think to look. Like a slide of single-celled organisms bursting to life under a microscope, this album finds flourishing life in the most unexpected of places." (Adam Strohm, Dusted Magazine)
listen

Rasps & Fractures (excerpt)

Gaps & Fictions (excerpt)

Exponential (excerpt)