solo performance
Over the years, I've developed a series of electroacoustic pieces for 'augmented solo' performance. These can stand alone, or be presented as part of a recital including other contemporary literature for oboe and English horn. (Scroll down for a sample list of available repertoire.)
A Spurious Autobiography for John Barth (2015) is a framework for confronting head-on the tautological pitfalls of solo improvisation – the sneaking suspicion that, in the wake of 'developing a voice,' one's just doing the same damn things over and over again in subtly different contexts. I fed, in two separate passes, the entirety of my first solo album, entymology (2000), through the circuitry of the classic modular analog EMU synthesizer housed at UC Santa Cruz. I then placed the chopped-up results into a structure that digitally flings taunting distortions of overly familiar materials at me in unpredictable orders and combinations. The effect is one of strapping myself into a personal-hell monkey-mind batting cage for your voyeuristic amusement.
Performed live Feb 4, 2016 at the Music of the Americas Concert Series, University of New Mexico, Albuquerque. Many thanks to José-Luis Hurtado and Kevin Vigneau for the opportunity, and to Manny Rettinger, Liz Rincon, and Eugene Sidorov for the documentation.
In A Fuzzy Monolith for James Turrell (2015), I was interested in dragging myself away from over-reliance on texture, timbre, and extremities of extended technique, and towards a careful attention to pitch, interval, and motive. But that's my problem. What I hope to convey to the listener is some semblance of the surprisingly moving impact that can arise from work that aims directly for a hijacking of the perceptual system. I love how Turrell's sculptures are somehow simultaneously so monumental and so tender. They require time and presence – you don't look at them, you have to inhabit them – but with patience you rather suddenly realize that the very way you're physically experiencing light has changed. Figure and ground flip; proximity and distance get mushy; you see yourself seeing.
Gasps & Fissures (2004) is an exploration of scrutiny and deception, hyper-extending a limited instrumental palette. Subtle, often borderline microscopic sounds of acoustic instrumental origin are grotesquely magnified and manipulated to sculpt music of claustrophobic intimacy and impossible physicality.
The CD on 482Music (realized through the Artist Residency Program at Experimental Sound Studio, Chicago, and funded in part by the National Endowment for the Arts) was conceived as a response to the paradoxes and absurdities of recording improvised music.
Gasps & Fissures as a live performance employs re-worked recorded materials and disorienting amplification to provide an ever-evolving framework for structured solo improvisation.
other sample repertoire:
Luciano Berio – Sequenza VII (1969) oboe
Harrison Birtwistle – An Interrupted Endless Melody (1991) oboe & piano
Christopher Burns – The Mutiny of Rivers (2010) English horn & live electronics (commissioned for EKG)
Elliot Carter – A Six Letter Letter (1996) English horn; Inner Song (1992) oboe
Chaya Czernowin – The Last Leaf (2010) oboe
Morton Feldman – Oboe and Orchestra (1976) oboe & tape (EKG's radical arrangement, w/ Ernst Karel's analog synthesizer realization of the orchestral score)
Brian Ferneyhough – Coloratura (1966) oboe & piano
Arthur Jarvinen – A Conspiracy of Crows (2000) oboe & tape
Mario Lavista – Marsias (1982) oboe & 8 crystal glasses
Mary Jane Leach – Xantippe's Rebuke (1993) oboe & tape
Liza Lim – Gyfu (2011) oboe
Olivier Messaien – Vocalise étude (1935) oboe & piano
Michael Pisaro – mind is moving (VII) (1996) oboe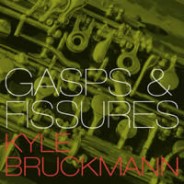 Kyle Bruckmann – oboe, English horn, suona, and mijwiz
(with Kurt Johnson, double bass)
"Gasps & Fissures's microscopic constructions are meticulously built from some of the music's smallest bits. . . Bruckmann's classical and jazz influences are stripped down and dissected, resulting in music that's as much electronic as it is either of the aforementioned styles. Gasps & Fissures inhabits the areas in between these territories, not straddling them so much as existing deep in the cracks, where many wouldn't even think to look. Like a slide of single-celled organisms bursting to life under a microscope, this album finds flourishing life in the most unexpected of places." (Adam Strohm, Dusted Magazine)
listen

Rasps & Fractures (excerpt)

Gaps & Fictions (excerpt)

Exponential (excerpt)