Lozenge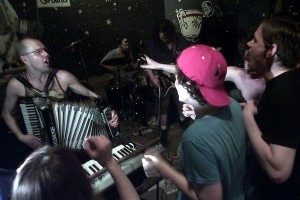 ". . . one of the most criminally underrated outfits in alt.rock" (Dan Warburton, Signal to Noise)
"…a clattery, distorted racket… stop-start patterns that sound like progressive rock locked in a dank boiler room…. All the lurching and buzzing is invigorating and hilarious, unless you're prone to motion sickness." (John Pareles, New York Times)
"Oboist Kyle Bruckmann is the local improv scene's Clark Kent. He's a generally polite and unassuming soloist, but when he fronts prog terrors Lozenge he emerges frothing and howling and mighty, as if Superman had caught rabies from Batman during some lost weekend of superheroes behaving badly . . ." (Monica Kendrick, Chicago Reader)
With an instrumentation of electric accordion, analog synthesizers, bass, and four-handed junkyard percussion, the music of LOZENGE flails in the perimeters of postpunk rock excess. While active in Houston from 1992-94 and in Chicago from 1996-2003, the constant core membership of Bruckmann, Kurt Johnson, Philip Montoro, and Mark Stevens (once augmented by the now dearly departed John Robbins and occasionally joined by the very-much-alive Boris Hauf) carved out an idiosyncratic aesthetic of sensory overstimulation, poly-/a-/hyper-rhythmic propulsion, labyrinthine black humor, and tooth-rattling timbral density. In performance, LOZENGE aspires to the transformative joy of extreme energy expenditure and collective self-immolation. Let the record state that LOZENGE, despite being enfeebled old men currently dispersed across the United States, will reconvene for performances at the drop of a hat, provided said hat is filled with such means as to make the venture logistically viable and economically sustainable.
LOZENGE's third and fourth albums remain commercially available through Sickroom Records.
The grainy but historic footage below is from October 2003 at Chicago's legendary Fireside Bowl – our second of three "last show ever" blowouts thus far.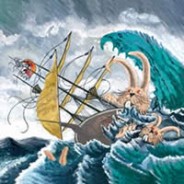 Kyle Bruckmann – accordion, minimoog, organ, oboe, voice
Kurt Johnson – bass
Philip Montoro – metal percussion, drums
Mark Stevens – drums
"LOZENGE, a four-man band from Chicago, makes a clattery, distorted racket… Cheap organ and synthesizer, clanking percussion, clobbered drums and cranked-up bass work up stop-start patterns that sound like progressive rock locked in a dank boiler room…. Every so often, someone howls a line like "What are we waiting for?" amid the din, or the music switches to a sardonic oom-pah. All the lurching and buzzing is invigorating and hilarious, unless you're prone to motion sickness." (John Pareles, New York Times)
listen

CHICKNSHIT (excerpt)

EYETEETH

STUMBLOR (excerpt)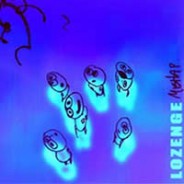 Kyle Bruckmann – accordion, minimoog, oboe, voice
Kurt Johnson – bass
Philip Montoro – metal percussion, drums
Mark Stevens – drums
with Boris Hauf, tenor saxophone, and Chuck Falzone, guitar
"Lozenge are too unruly to be indie rock, too sensible to be grindcore and too damn good to be unjustly heaped into the overcrowded and underappreciated pigeonhole that is noisecore… Lozenge's world is one where beer-barrel polkas slam headlong into caterwauling prog-metal and improvisational jazz riffs." (Jason Jachowiak, Splendid)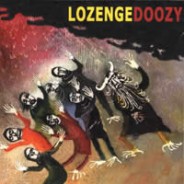 Kyle Bruckmann – accordion, minimoog, oboe, voice
Kurt Johnson – bass
Philip Montoro – metal percussion, drums
John Robbins – electric viola, tenor saxophone
Mark Stevens – drums
"The cross-pollination of punk and improvised music has opened various new avenues of exploration..Lozenge has charted a similarly twisted path that leads through art rock and the territory inhabited by Japanese eclectic extremists the Boredoms and Omoide Hatoba… Doozy is a messy, frenetic, supercharged pack of tracks… Bruckmann, Johnson, and saxophonist and electric violist John Robbins make an effectively and purposefully clunky front line, barreling through occasional odd meters, fuzzy garage riffs, and menacing prog-punk pronouncements…" (John Corbett, Chicago Reader)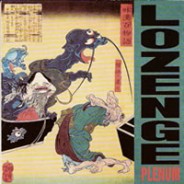 Kyle Bruckmann – electric accordion, voice, synthesizers, oboe, English horn
Kurt Johnson – electric bass, contrabass
Philip Montoro – metal percussion
Mark Stevens – drums
"…Then there are other other bands that take a far-fetched musical idea (like mayhem, for instance), aggressively fart around with it for a few months, play about two live gigs, break up, disappear and then a year later, when individual band members may already have tenure in hell for all anyone knows, hawk up a gob of indispensable racket such as Plenum – which, besides being a band-described "mannerist exercise in manic self-deprecation," is also the greatest example of unaffected sonic artiness to see daylight in Houston since I can't remember when." (Brad Tyer, Houston Press)